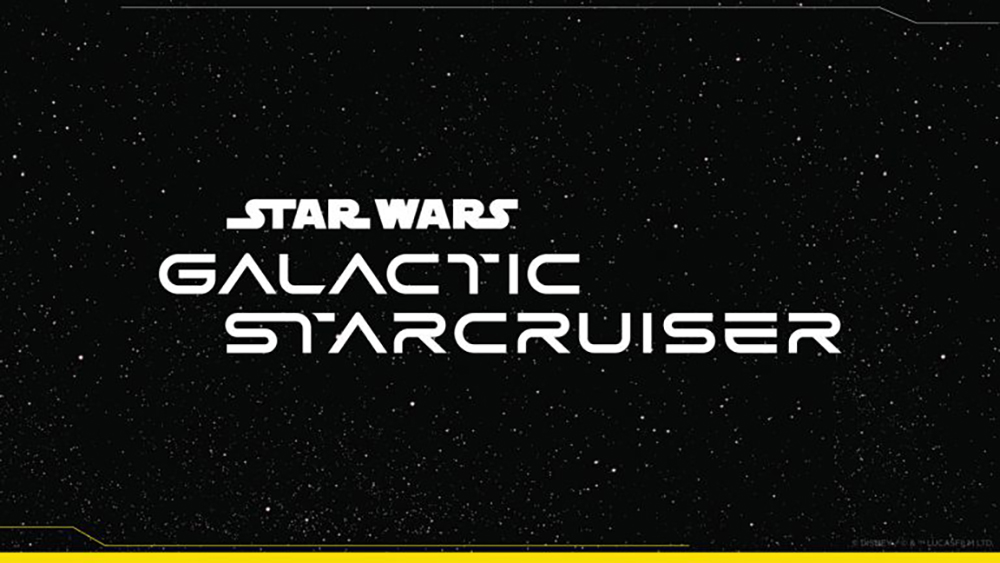 Star Wars: Galactic Starcruiser at Walt Disney World Resort will depart March, 1, 2022! General bookings for this immersive adventure in a galaxy far, far away will open less than one month from now, on Oct. 28, 2021.
Certain Disney Star Wars fans will have the first opportunity to book before the general public.
Disney Passholders and Vacation Club members: October 7 – 9
Disney Visa Cardholders: October 12 – 16
Everyone else can book starting October 28th.
For a preview of this exciting and immersive cruise to a galaxy far, far away, click below:
So, how does the Star Wars Galactic Starcruiser work, you ask? It is like a Disney Cruise but in space! You launch from Walt Disney World in Orlando, via a (space) shuttle, to the Galactic Starcruiser, Halcyon. From there, you will set sail via hyperspace through the galaxy and can participate in many exciting onboard adventures, like lightsaber training, Resistance spy hunts, and other surprises. Additionally, there are port excursions, just like on a Disney Cruise, to Batuu, also known as Galaxy's Edge in Disney Hollywood Studios. The entire voyage lasts for 2 nights.
More details are coming later today, so check back.
If you are interested in sailing the galaxy on one of the first voyages, use the form below:
Note, this is not like a Disney World reservation booking. Pricing is based on cabin occupancy and requires a 20% refundable deposit, and has different cancellation policies. Also, there are no reservation holds and we must book it with a deposit on the initial call.
Therefore, I must have your lead guest name and age, the names and ages of the additional travelers at the time of booking.
I also need your preferred cabin: Standard / Galaxy Class / Grand Captain's Suite
I need your preferred dining time: First dining / Second dining
Additionally, I need several dates preferences, in order of priority. You may also want to send several for Spring, Summer, and Fall dates, as this is expected to sell out for the entire 2022 calendar year.
More details are coming later today, so check back.
Let's plan some magic! Give me a few important details and I can send you some suggestions and pricing.