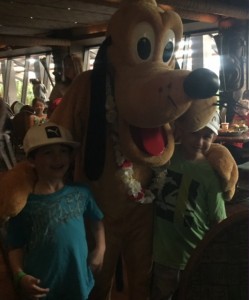 "As most of my followers can sympathize, traveling with food allergies is not a simple task, not to mention extremely stressful and takes lots of advance planning. We travel quite a lot with our food allergic boys and although it has gotten easier over the years, it's can still be challenging at moments.
Our family recently experienced our first trip to Walt Disney Word in Orlando, FL. It was a HUGE success and one of the most amazing vacations we have experienced as a young family!"
Read this wonderful review, at my client's blog, Small Town Allergy Mom.
---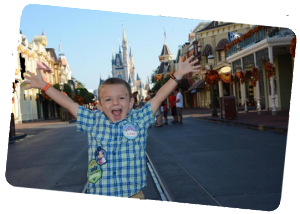 At first I was very skeptical booking with a travel agent. I always heard that travel agents don't really care about your trip they just want to get paid and will leave you hanging when you are trusting your trip in their hands. Lizzie was the absolutely opposite. She worked with me on every detail, answered every question and made me feel so comfortable taking my child with severe allergies to Disney for his birthday. She gave me so many options and advice on where to go and what to do with my two little ones. I could not say enough about her. Our trip was stress free and perfect! She even helped me during the trip when I needed directions or needed advice about something. She was absolutely amazing and I have been telling everyone to use her. I have nothing bad to say about Lizzie. She is a rock star travel agent and already ready to plan our next trip
– Jillian C.
---
I booked my vacation two months out, which is very short in Disney terms Lizzie was fantastic in helping me arrange everything from the resort reservation to fast passes to character dinners to stroller rentals. Disney can be overwhelming, especially when it is your first trip with a child that has multiple food allergies and Lizze ensured I went well equipped with the knowledge I needed to safely eat out with my child and how to make the best of our vacation. My family ate out in more restaurants in WDW in one week than we have in the past 4 years since my daughter's birth. I highly recommend working with Lizzie Reynolds from Pixie Lizzie. She was nothing short of dream!- Barbarone family
---
Lizzie was very knowledgable about dining with food allergies at Disney. As a mother of a child with multiple food allergies I was very hesitant about allowing someone else to prepare food for my child. Lizzie's experience with her own daughter at Disney, coupled wither patient manner convinced me that I could trust Disney to accommodate my daughter. In addition to providing information about the variety of dining options for my daughter/family, she also gave us tips on how to navigate the airports, flights, parks and resorts with serious food allergies. Although food safety was the most critical component of our trip, Lizzie also was very good at giving me ride recommendations and discussing advantages and disadvantages of the different resorts. She also went out of her way to secure all of the best coveted dining reservations for character breakfasts and dinners for me at the crack of dawn on her own vacation! Thanks to Lizzie, we were able to dine on the days and times I wanted at BOG, CRT, CM, AKER and many more! We really appreciated that service! We will use her again, to book all of our next Disney trips!
– Gillian & family
(click to read her Disney World trip report)
---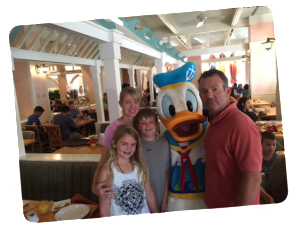 Lizzie gave me great advice from the first conversation to the last. She added things that I would not have thought of on my own. She also told me what was the best use of our dollars and what was not the best, but still let us decide if it was for us.
Will definitely contact her again for our Universal trip, whenever we decide to do it.
Thank you!
– The Dunn Family, Walt Disney World, Beach Club Resort, October 10-17, 2015.
---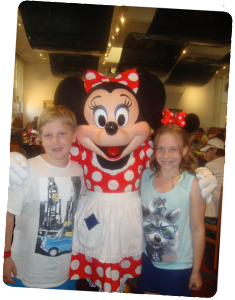 Lizzie made traveling possible for our family. Both of our children ages 10 & 8 have food allergies and this was our 1st destination vacation. She helped with all the logistics of Disney, dining, food allergies, fast passes & lodging. The only reason we went to Disney was because of her experience with food allergies!!! She is very knowledgeable!!!
We are going back next year thanks to Lizzie-my husband loved the vacation.
– Miller family
---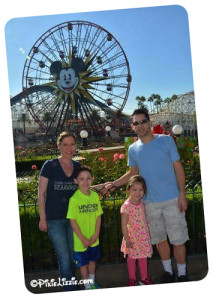 Lizzie was amazing at planning our entire vacation but most importantly she helped book and schedule our meals. With a peanut allergic daughter I was beyond nervous to eat out and Lizzie helped calm my fears and allowed for us to have an amazing vacation. Every restaurant we went to were already aware and prepared for our visit with allergies. My daughter even had dessert.
– Stephanie / Disneyland
---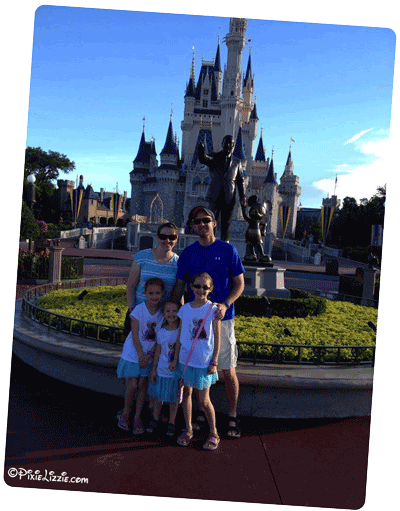 Lizzie provided us with all of the information and resources we needed to feel comfortable taking our food allergic children to Disney. Lizzie answered every question and concern we had in a timely manner. She looked into different options for us and let us know the pros and cons of services, parks, resorts, etc… I spoke to another family who was planning a Disney trip around the same time we were planning to be gone.
They had spent hours doing everything on their own and still didn't feel prepared. When they told me that, I was so thankful that we had Lizzie to help us every step of the way. The information she gave us related to traveling to Disney with food allergies was priceless. She provided us with great customer service and I would highly recommend her to other families! – Melinda
---
Our family had been tossing around the idea of going to Disney World. I
had heard how great they were about accommodating for food allergies & I
did a lot of online research. When we realized our school had a fall break,
we planned a last minute trip. I had already contacted another travel agent
that was supposedly great with helping about food allergies. I sent a request
for a quote, and 3 days later had not received a response. I emailed them
again asking when I could expect to get a quote & they apologized saying
they were currently at Disney and never got back with me after that email.
I was frustrated!! I had already been looking on Pinterest for "food allergies
& Disney" and came across Pixie Vacations. Lizzie was a God-send!! She
immediately responded to my request for a quote, and since her daughter
has similar allergies to my children's allergies, made me feel so much better
about the trip! Lizzie immediately began helping us get dining reservations
and answering any food allergy questions I had. She even requested a "deep
clean" of our room because of the allergies! I never would have thought to
do that on my own. We had a fantastic time at Disney & ALL of the chefs
were wonderful!! As opposed to our daily lives, we NEVER felt like our food
allergies were an inconvenience to anyone at Disney and that felt wonderful!!
Thanks so much Pixie Vacations for helping take the stress off of us &
making the arrangements for such a wonderful & memorable allergy-free
Disney Vacation!!
Now, we're going to start saving up for a Disney Cruise……… –  Davis Family
---
Liz was very energetic and enthusiastic from the moment we spoke first.
She was very prompt with all communications between us, both e-mail and
phone. We told her we wanted to stay in a good resort, luxury or fairly
similar, and asked Liz about the Wilderness resort, which we had heard good
things about. She said it was a great resort but that the pool was under
construction so we may want to stay at the Animal Kingdom lodge. The pool
is a big deal for my kids so this was a great bit of advice, and something that
likely saved us some heartache.
We also wanted some dining reservations but did not know exactly what or
when. Liz asked us the dates we were thinking about going to each park
and she set up both dinner and lunch reservations, on rather short notice I
might add. That all worked out very well.
Everything we needed – luggage tags, magic wrist bands, other magic express
vouchers – were sent to us very quickly. It was about as easy as I could
imagine (though the FastPass system using the magic bands is still a little
quirky – that has nothing to do with the travel plans or Liz though).
Overall it was a great vacation. Looking forward to going back and trying
another resort. – Scott